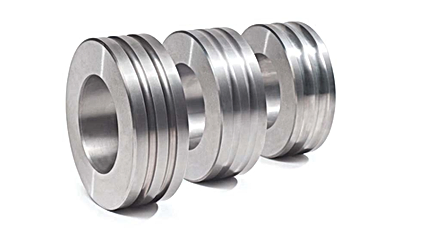 Cemented carbide roll rings possess very good thermal conductivity properties. Under the condition of high temperature, compared to other materials, the hardness keeps stable and it provides much better heat resistance, wear resistance and strength.
Application:
Used for various cold and warm forging rolls for steel manufacturing, shearing slitters and milling rolling tools.
The cemented carbide roll ring has been invented with the appearance of high speed wire rod mill, it is now widely applied in the production of high speed wire, bar and thread rod steel. Its hardness and wear resistance come from tungsten carbide (Wc) while the toughness and strength depend on the binding agent (Co-Ni-Cr).


MAIN GRADES
CARBIDE ROLLS FOR COLD ROLLING REBARS
TITANIUM CARBIDE GUIDE ROLLER
MAIN GRADES
| Grade | Chemical Composition % | Hardness (HRA) | Density (g/cm^3) | Transverse Rupture Strength (MPa) | Compressive Strength (MPa) |
| --- | --- | --- | --- | --- | --- |
| | Co | | | | |
| VPH05 | 6 | 88.5 | 14.91 | 2620 | 3700 |
| VPH10 | 8 | 87.8 | 14.71 | 2870 | 3500 |
| VPH30 | 15 | 84.8 | 13.99 | 2870 | 3300 |
| VPH45 | 20 | 83.6 | 13.55 | 2840 | 3100 |
| VPH55 | 26 | 82.1 | 13.03 | 2700 | 3000 |
| VPH60 | 30 | 80.8 | 12.72 | 2730 | 3000 |
| | | | | | |
| | Co+Ni+Cr | | | | |
| VPR30 | 15 | 84.2 | 13.98 | 2900 | 3200 |
| VPR45 | 20 | 81.7 | 13.52 | 2720 | 3000 |
| VPR55 | 26 | 79.5 | 13.01 | 2630 | 2800 |
| VPR60 | 30 | 79.1 | 12.71 | 2630 | 2600 |
| | | | | | |
| | Co+Ni+Cr | | | | |
| PA10 | 10 | 86 | 14.52 | 2750 | 3800 |
| PA20 | 15 | 84.4 | 13.95 | 2910 | 3700 |
| PA30 | 20 | 82 | 13.47 | 2760 | 3300 |
CARBIDE ROLLS FOR COLD ROLLING REBARS
TITANIUM CARBIDE GUIDE ROLLER